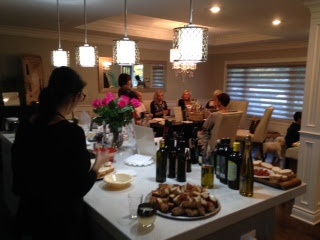 Cibarsi Bene is proud to announce the introduction of our exclusive offering of fine products for your friends and family.
This unique "@ Home" offering provides a most tasteful, healthful, all-natural selection of extra virgin olive oils, aged & flavored balsamic vinegars, premium pastas, and tomatoes, all straight from Italy.
You may be interested in hosting an event at your home, or possibly being a Cibarsi Bene @ Home advisor, with your own sales and marketing opportunities promoting our fine products. We all appreciate the simple joys in life, like our time with family and friends, good company, and good food.
At Cibarsi Bene @ Home, we are committed to bringing those simple pleasures to life through our gourmet, all-natural offerings. Our products are pure, fresh, and provide unmatched quality that is beneficial for your health (and your tastebuds).
By graciously agreeing to host an @ Home event, you, your family, and your friends will enjoy these fine offerings. You will also learn about the dramatic differences these products can make in your lives.
Cibarsi Bene means "eating well" in Italian, and a common mantra in Italy is that some eat to live, while others live to eat. Our mission is to embrace the best of both sides of this mantra, by providing food that not only supplements your health, but provides a spark that ignites excitement for your next bite.

Now, you can meet new friends, earn great savings on your personal orders, and know you are educating others to make nourishing food choices, all while you enjoy the financial and relationship-building benefits of hosting a party.
Find out more about hosting an @ Home event by reaching out to us at info@cibarsibene.com.
We look forward to having you join us on this journey in the art of quality foods.